Virginia Beach Attorney for Court Proceedings
Serving Newport News, Hampton, Chesapeake, Suffolk, Portsmouth & Norfolk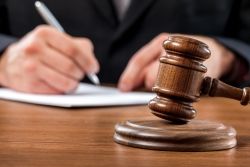 At JRLaw, PLC, Jerrell R. Johnson has over a decade of experience helping clients through a variety of court proceedings, including bond hearings, appeals, and expungements. As a former police officer for over 15 years, our lawyer provides his unique, insider knowledge of the criminal justice system. He has the experience, the connections, and the resources to help you effectively resolve your case.
Schedule a FREE evaluation today.
We can assist with a variety of court proceedings, including:
Bond Motions: If your loved one is being detained by authorities, we can represent you through bond hearings and work towards getting your loved one released.
Appeals: An appeal can be sought if you believe that your conviction was the result of an error in sentencing or during a trial. We can help you file an effective appeal after reviewing your case.
Expungement: After you have successfully served your sentence, you may be able to have your charge cleared through expungement, which can allow you to pass certain security clearance and background checks.
Arraignments: During the arraignment, you will be read your rights and charges before a judge, then asked to enter a plea of guilty, not guilty, or no contest. We can advise you on what to plea and help you understand the consequences.
Preliminary hearings: At the preliminary hearing before a judge, the prosecutor and defense both present arguments on whether there is enough evidence to proceed with a charge.
Trials: During a trial, Jerrell R. Johnson knows how to effectively present a case in front of a judge and jury, and fight for a not guilty verdict. He is a veteran of many trials and secured numerous courtroom victories.
Court proceedings can be complex, and many clients are often confused about what to do and how to approach the court system. Jerrell is very familiar with the criminal justice system as well as many court proceedings. He can personally guide you through the courts and work to ensure that you understand what is happening with your case at each step.
Learn Your Rights:
(757) 447-0080
If you are facing any of the above issues, talk to our Virginia Beach criminal defense lawyer in Hampton Roads today to see how he can help you. We listen to your issue and work closely with you to find a solution that is in your best interests.
Proven Track Record
Dedicated to Obtaining the Best Possible Outcome
Traffic Violations Hampton District: Misdemeanor Reckless Driving

Felony Virginia Beach Juvenile: Domestic Assault

Felony Virginia Beach Juvenile: Domestic Assault & CPS case for Child Abuse

Felony Newport News District: Threaten to Harm and Curse and Abuse

Traffic Violations Northampton County: Misdemeanor Reckless Driving

Traffic Violations Sussex County: Reckless Driving

Norfolk District: Disorderly Conduct Dismissed

Misdemeanor Virginia Beach District: ASAP Show Cause

Misdemeanor Virginia Beach District: Class 1 Misdemeanor Animal Cruelty

Felony Virginia Beach District: Drunk in Public
We Care About Our Clients
Read What Past Clients Had to Say About Us